Improv with Intention! - Aurel's latest workshop at Ancient Art Studios, Berkley, MA
Nov 16th 2011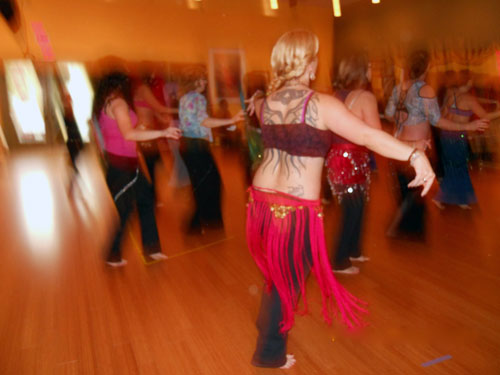 It's a scary idea, improvising. Sounds like you've got to make something up on the spot, with a whole bunch of people watching. And worse - with a live band!
Aurel at Ancient Art Studios had a different idea, and taught a workshop about it.
The workshop was spot-on, exciting to watch and full of visual and kinesthetic information for dancers to take home and develop. The icing on the brownie was George on keys, Nicky on bouzouki and Leon on doumbeg, there to help, fill in, and practice against. Aurel could call up a string of taxims, drum rolls or special rhythms as the class needed them, and the guys delivered exactly what was needed.
Although I have done team teaching of performance, I've never seen a class quite like this one. Aurel's formal training in acting and directing created a framework, with charts and handouts, for sharing ideas on how to maintain contact with an audience while working with a live band.
The information and how to use it, is timely and needed.
Back in the day, we dancers in the 70's and 80's still enthuse about the musical opportunities we were blessed with. We danced to live music, because it was there. Pre-recorded stuff was for practicing, classes, or the occasional private party or Bellygram. Opportunities are no longer so plentiful, and now dancers have become used to the dependability of a CD. When presented with the immediacy of live music and its sometimes cliff-hanging challenges, some simply don't know where to start.
Aurel's approach was direct, the way an actor approaches a role. What is your overall intent, and how do you plan to get there? Good technique is necessary, but a show of technique alone can quickly become boring.
She then demonstrated, with floor plans, how actors learn to command a stage and how to work a three-sided audience, a particular issue dancers continue to ignore at their peril. Everyone practiced ways to claim the floor and still keep contact with the audience. She talked about the force of certain gestures, what positions express power or vulnerability, and how to play around with them. Everyone had multiple opportunities to try them out.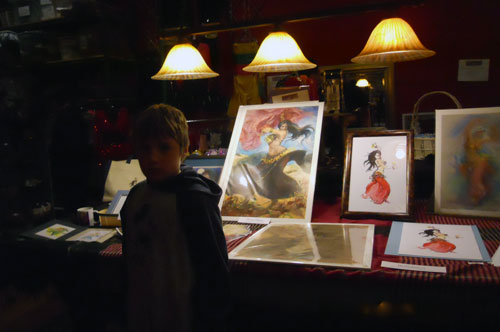 Part of my exhibit
The workshop ended on a short question-and-answer session with the band. George and Nick Kokouros and Leon Manoogian took comments and shared their years of experience working with dancers. They emphasized - surprise! - how important it is to communicate, before, during and after the show. "Tell us what you want, and be specific" didn't make it seem quite so scary. The band played for dancers at the ShimmyShack presentation after the workshop and I was delighted to see performers using some of the new moves in their show.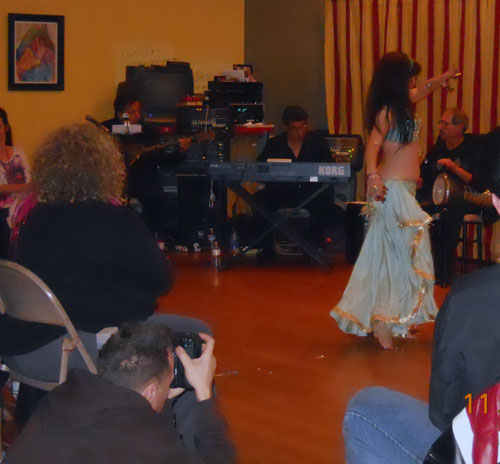 Here's Bill D'Agnostino photographing Aurel in her dance. Nicky, George and Leon are making music.
This was an exciting class to observe. I was sketching like mad, as usual, and with so much movement and participation, it wasn't easy. But this is what performance is about, I thought, using all you have pulled together, the study, practice and adornment, to create a dance, unique and beautiful, of your own.
I hope Aurel offers this workshop again and I couldn't recommend it highly enough, to dancers on any level.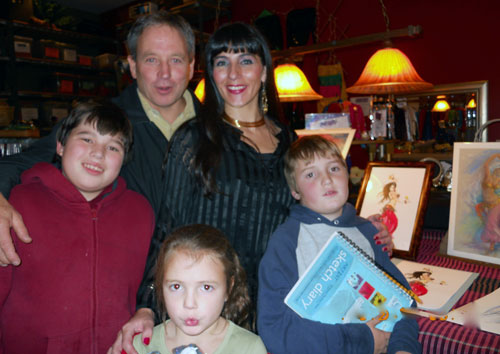 Here's Angela, one of my collectors, and her beautiful family standing in front of my art exhibit. Nick, the budding artist, is the one holding the sketchbook.