Drawing in the Dark
Sep 16th 2011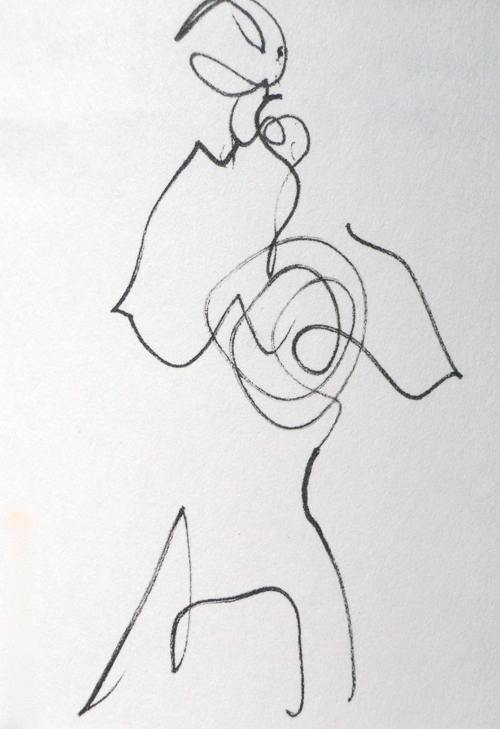 It's like dancing in the dark. You call on instinct, experience, desire, and feel. Then, you move.
I am sitting in the audience at this year's MassRaqs Gala at the Boston University Dance Theater. The show is exquisite. Each dance is like a little jewel in a box, separate, colorful and distinctive. I am entranced by the color, the movement, the beauty of the music. I need to make a few notes to myself about what I am seeing. I need to sketch.
But when the house lights go down, all becomes blackness. In the pitch dark where my lap is, I can't see my fingernails, much less my program. How could I see a pen line on a page? But the sights before me energize me. Hadia is now doing her Turkish Rom, I feel her moves and need to respond.
I fumble for my pen, open the skinny, purse-sized sketchbook I bring along for performances, and with my fingertips, locate the edge of the page. In total darkness, I move, I press, I do my best to direct the pen. I watch the dancer, tell my hand to be my eye, and I start to get down a line.
These are some of the drawings I did that night, bare-bones sketches but full of information for me about how dancers and musicians move. Karim Nagi, his legs sturdy and apart, his drum looking like a spiral, reminds me of his whirling, manly, rhythmic dance. The others simply express a gesture, all whispering to me information for future paintings.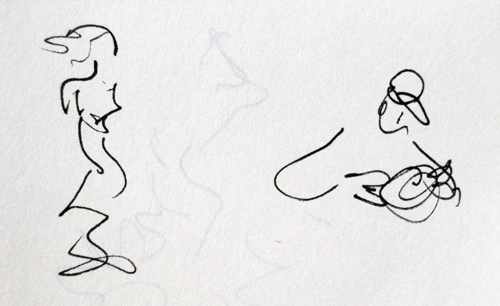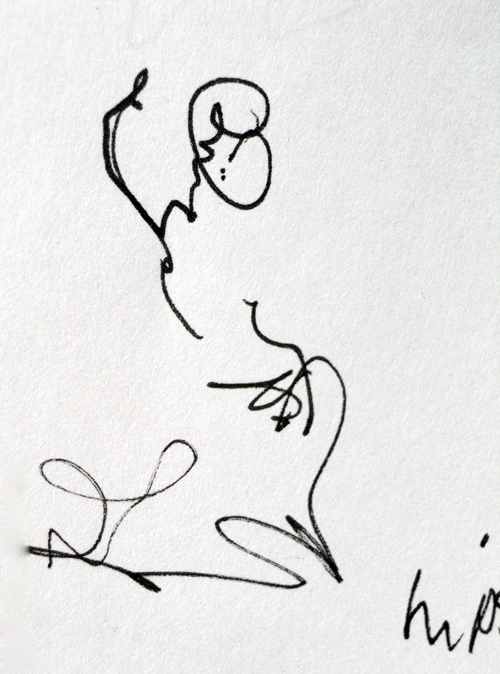 I love one little drawing best. It shows me a dancer, the flare of her skirt, the line and curve of her back as she responds to gypsy Karshilama. I can see in it a raised elbow, a hand behind a head.
The drawing may appear to be nothing but a scribble. But to me, it is so much more. I was there, and she dances!
The big pictures come later.